Move to Poland from the UAE
Do you want to work in Poland but are not an EU citizen? Find out the obligations you must meet, the steps you must take, and the privileges you may exercise during your stay.
Poland Immigration Services Made Simple
UAE 's Leading Poland Immigration Consultancy
Poland is a part of the Schengen Area and the European Union. Compared to earlier times, the likelihood of foreigners filing for Poland immigration has increased recently due to improved economic conditions.
If you are a resident of the United Arab Emirates (UAE) or another Middle Eastern country and would want to move to Poland or obtain a work permit to migrate to Poland, Royal Migration Solutions is here to help you every step of the way.
Note!
These figures were last updated on MONDAY, 7th NOVEMBER 2022, at 3:45 PM GMT +4
Poland for a new venture?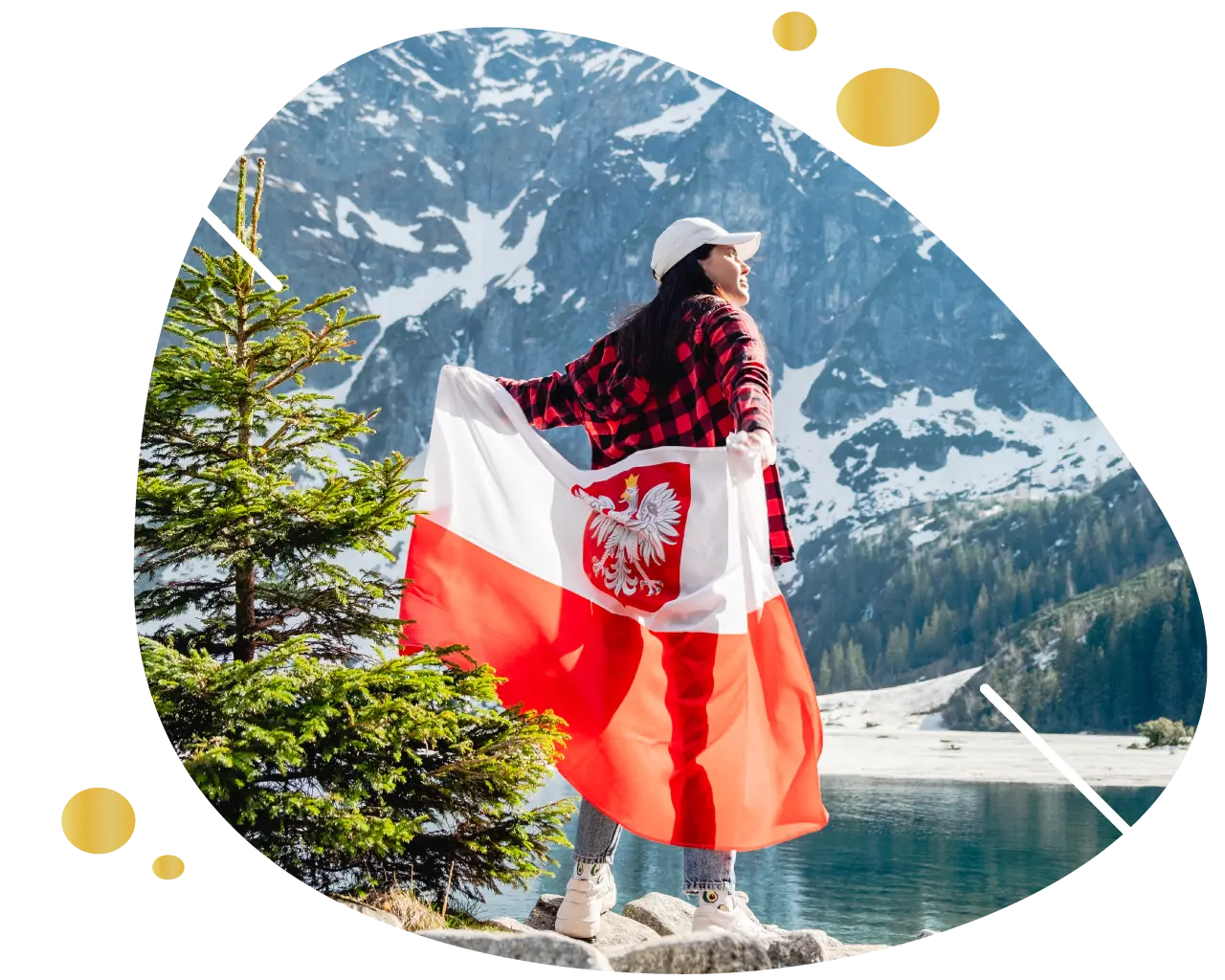 Visit Poland and the Schengen area
Visit Poland - Poland Schengen Visa Application
Poland attracts many visitors yearly thanks to its rich history, stunning natural scenery, and reasonable rates. Poland has everything you need for a good time, from Warsaw's bustling capital to Krakow's medieval streets. A Poland Schengen visa may be required if you wish to visit the country at any time.
Poland is a member of the Schengen Agreement. Hence its tourist visa is commonly referred to as a Schengen visa. If you are granted a visa to enter Poland, you will also be granted visa-free entry into all other Schengen countries.
Poland Work Visas & Permits
Foreign workers may need help to secure licenses to reside and work in Poland since Polish nationals are given preference. However, it can be useful to comprehend the procedures and specifications for getting visas and work permits.
For non-EU nationals who wish to enter Poland for employment, a variety of visa types are available, among which :
Explore Poland visa options
Being a polish immigration services provider for the past 21 years, we are well-equipped to help you meet all your Poland immigration goals.
Poland enjoys a significant position as one of the most well-liked current members of the European Union and one of the most important former Eastern European states. Until you take the proper steps, obtaining a visit visa to Poland can be difficult and time-consuming. You can count on a speedy and affordable process thanks to our expert support.
To study in Poland as an international student, you must have a student visa unless you are a citizen of an EU nation.
Obtaining a D-type visa entails many processes, including verifying your enrollment at a Polish university, processing your visa, scheduling a consular appointment, and gathering documentation.
Our experts will walk you through the entire procedure from beginning to end.
Poland can be an excellent choice for you if you intend to work in Europe.
Foreign workers may find it difficult to get permission to reside and work in Poland since Polish nationals are given preference. We will assist you in applying process so you can make the best out of it.
Poland is an attractive destination for job seekers due to its high economic standing in Europe, low cost of living, and a wide variety of graduate opportunities.
Graduates can find more than enough jobs in tourist hubs like Warsaw, Krakow, and Wroclaw, so you'll have many opportunities to travel during your free time. You should also see Poland's many kinds of wood, lakes, and mountains in addition to its well-known market squares and historic district.
You can save money compared to other European nations, improve your language skills, and witness the blending of western and eastern European cultures by living in Poland.
Questions? You're covered
97% Poland Applications Success Rate
Serving 170+ Nationalities.
Trusted globally
Founded in 2001, Royal Migration Solutions is widely considered the most respected Canadian immigration firm in the UAE. We have earned our reputation as a world-class immigration firm by providing dedication and personalized service to every unique case before us.
Due to the crises in Europe, I wasn't getting an appointment to submit my Poland work permit application. I already received a job offer but was struggling to get my work permit and visa process. Royal Migration helped me in getting my work permit and without any struggle, I got my appointment for the visa process and got visa approval. I will always recommend Royal Migration for all sorts of the visa process.
hi my name is rajni and i did my poland work permit with royal migration which i got in 3 months only with the help of professional team. i was thinking to do this since long time but not able to decide where to apply and finally when i visited royal migration with so much of detailed information i applied. Highly recommended.
Make the best out of your application, let's assist you